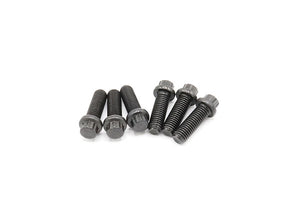 12 Point Up-pipe Bolt Set for 2001 - 2016 Duramax Diesel
Up-pipe to turbocharger and up-pipe to exhaust manifold bolts for all 2001 to 2016 6.6L Duramax diesels. These M10 bolts are grade 12.9 and feature a minimum tensile strength of 170,000 psi. Like the factory hardware, these bolts utilize a 12 point head which permits higher torque loads while making the head more difficult to "round" than a standard hex head.
Up-pipe hardware should not be reused as they lose their material properties and strength characteristics as a result of heat exposure. Broken up-pipe bolts are widely common on 2001 - 2016 Duramax diesels for this very reason, and reused bolts are significantly more likely to break. Bolt extraction is extremely difficult, time consuming, and often expensive, so we highly recommend they be replaced as necessary.
Each up-pipe requires a total of (6) bolts; (3) bolts connect the up-pipe to the exhaust manifold flange and (3) bolts connect the up-pipe to the turbocharger flange. Sold in sets of six (6) and twelve (12) individual bolts.

FEATURES
• Grade 12.9 alloy steel bolts
• 12 point head for increased resilience and ease-of-installation
APPLICATIONS

2001 - 2016 GMC Sierra 2500HD/3500HD w/ 6.6L Duramax diesel
2001 - 2016 Chevrolet Silverado 2500HD/3500HD w/ 6.6L Duramax diesel
INSTALLATION NOTES
Threads should be coated with a high temperature anti-seize compound prior to installation to prevent galling. Suitable products include ACDelco 10-4039, Loctite LB 8009, Permatex 77124, Motorcraft XL-2. Torque bolts to 39 lb-ft; do not overtighten.
ADDITIONAL PRODUCT DETAILS
| | |
| --- | --- |
| Manufacturer: | Dieselply |
| Part Number(s): | DP-201006, DP-201012 |
| Origin: | Taiwan |
| Shipping Weight: | 7 - 12 oz |