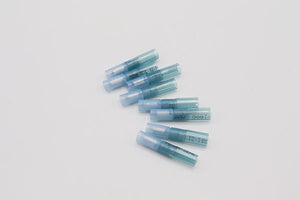 1988 - 1994 7.3L IDI Diesel Glow Plug Connector Set

Set of (8) glow plug connectors for all 7.3L IDI diesel engines. Connector features an adhesive lined heat shrink sleeve that secures the connector shell to the glow plug wire when heat is applied. Simply cut off the old connector, crimp on the new, and apply heat with a heat gun to seal the connector. The original glow plug connectors from Ford/International have long been discontinued. Connectors should be replaced when they no long fit snug on the glow plug or are otherwise compromised.
FEATURES
(8) individual glow plug connectors
Integrated heat shrink sleeve creates a secure bond between wire and connector after crimped
1 year warranty
Made in USA
APPLICATIONS
1988 - 1994 Ford F-250/F-350/F-Super Duty trucks with 7.3L IDI diesel (fits naturally aspirated AND turbocharged variants)
Various International medium duty trucks equipped with the 7.3L IDI diesel

Will NOT fit 1983 - 1987 F-Series equipped with 6.9L diesel.
Will NOT fit 1994.5 - 2003 F-Series equipped with 7.3L Power Stroke diesel
INSTALLATION NOTES
Remove and discard old glow plug connector. Crimp on new connector, activate integrated heat shrink tubing sleeve with a heat gun to secure connector shell to wire.
ADDITIONAL PRODUCT DETAILS
| | |
| --- | --- |
| Manufacturer: | Dieselply |
| Part Number(s): | DP-150408 |
| Origin: | USA |
|  Warranty: | 1 yr, UL mileage |
| Shipping Weight: | 4 oz |