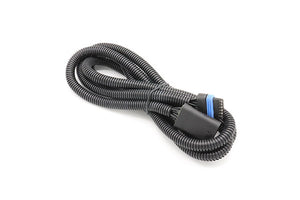 72 in Extension Harness for 6.5L GM Diesel PMD/FSD Relocation

72" extension harness connects the original PMD/FSD wiring harness to a relocated PMD. The length of this extension permits a wide range of relocation options. This extension harness is compatible with all black PMD/FSD units; it will not work with gray PMDs.
The PMD (Pump Mounted Driver), also referred to in some instances as the FSD (Fuel System Driver), is the Achilles heel of the 6.5L GM diesel. As such, relocation of the PMD is quite common and relocating options are plentiful. This 72" harness permits PMD relocation to a variety of locations. The PMD/FSD is mounted to the driver side of the Stanadyne DS4 injection pump on turbocharged 6.5L GM diesels. A tremendous amount of heat is generated as it intensifies the signal from the powertrain control module to the fuel solenoid. During normal operation, the flow of diesel fuel is used as a coolant and, in theory, prevents the module from overheating. However, underhood temperatures and the heat generated by the engine itself often prevent proper cooling and cause the PMD to fail prematurely. Additionally, a "heat soak" effect occurs when a hot engine is shutdown and the temperature of the PMD can increase considerably beyond its design limits, further contributing to a shortened service life and intermittent operation.
As a result of the inherent problems with the PMD/FSD location, it is common for 6.5L GM diesel owners to move the PMD to a more ideal location where a cooling effect is encouraged and the heat soak effect is either reduced of eliminated. Common relocation placements include the front bumper, near the battery box, against the firewall, or similarly isolated locations. We highly suggest researching various relocation options and their inherent advantages/disadvantages before making a final decision.

FEATURES
Made in USA
72 inch (6 feet) overall length
APPLICATIONS
Fits all black PMDs; NOT compatible with gray PMDs

1994 - 2002 Chevrolet Silverado 1500/2500/3500 (6.5L diesel)
1994 - 1999 Chevrolet Suburban/Tahoe (6.5L diesel)
1994 - 2002 GMC Sierra 1500/2500/3500 (6.5L diesel)
1994 - 1999 GMC Yukon (6.5L diesel)
ADDITIONAL PRODUCT DETAILS
| | |
| --- | --- |
| Manufacturer: | REID TEKK |
| Part Number(s): | RT-250101 |
| Origin: | USA |
|  Warranty: | 1 year, unlimited mileage |
| Shipping Weight: | 7 oz |