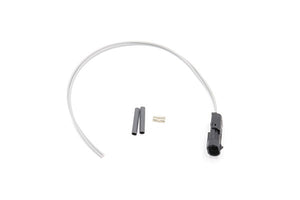 PT-134 Two Wire GM Fuel Pump Connector Pigtail

Multi-purpose two wire connector pigtail for GM vehicles. Pigtail is equivalent to ACDelco PT-134 and GM 12085524. The most common application is the fuel pump connector for various GM vehicles. It is found on 1992 - 2002 GMC/Chevrolet trucks equipped with the 6.5L diesel (chassis harness fuel pump connector) in addition to a variety of GMC, Chevrolet, Oldsmobile, Cadillac, Buick, and Pontiac vehicles. Assembled using OEM connector and terminals for a perfect factory fit. Produced from high grade, high temp wire. Guaranteed to meet or exceed OEM quality.
Electrical connectors should be replaced anytime the connector shows signs of deterioration, fits loosely on the device, the locking detent breaks, the wire insulation becomes compromised, or the connector shows other signs of wear/failure.
FEATURES
Made in USA
Assembled using OEM connector and terminals
16 in (40 mm) overall length
ACDelco PT-134 equivalent (GM 12085524)
High grade, USA made wire
1 year warranty
APPLICATIONS

All 6.5L diesels, including:
1992 - 2000 Chevrolet/GMC C2500, C3500 pickups
1992 - 2000 Chevrolet/GMC K2500, K3500 pickups
1994 - 1998 Chevrolet/GMC C1500 pickups
1994 - 1999 Chevrolet/GMC K1500 pickups
1992 - 2000 Chevrolet Suburban C2500
1994 - 1999 Chevrolet Suburban K1500, K2500
1994 - 1999 Chevrolet Suburban C1500
1992 - 2002 Chevrolet/GMC C3500HD chassis cab
1995 - 1999 Chevrolet Tahoe
1994 - 1999 GMC Yukon
Many GMC, Chevrolet, Cadillac, Buick, Pontiac cars and trucks - replaces ACDelco PT-134
ADDITIONAL PRODUCT DETAILS
Manufacturer:
REID TEKK

Part Number(s):
RT-2513401

Interchange/Alt Part Number(s):
ACDelco PT-134
Standard S650
GM 12085524
Origin:
USA

 Warranty:
1 year, unlimited mileage

Shipping Weight:
4 oz