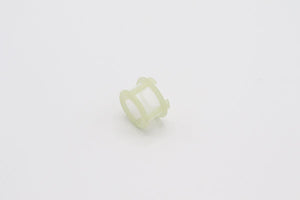 6.5L GM Diesel Fuel Filter Screen, Stanadyne/Clarcor 29244
The fuel filter screen installs over the neck of the fuel filter manager on all 6.5L GM diesels. It is the last line of defense should a filter element fail, halting any fragments of the paper filter from being transported to the injection pump. Genuine OEM part.

The fuel filter screen often lodges itself inside the bottom of the fuel filter element and is unintentionally discarded. In fact, it is extremely common not to find a screen in the fuel filter manager (FFM) when replacing the fuel filter assembly. Regardless of how simple the part may seem, it is an important failsafe that should be examined and replaced as necessary during every fuel filter service.
FEATURES
Genuine Stanadyne replacement part; packaged under the Clarcor or Parker brand names

APPLICATIONS
1992 - 2002 Chevrolet Silverado 1500/2500/3500 (6.5L diesel)
1994 - 1999 Chevrolet Suburban/Tahoe (6.5L diesel)
1992 - 2002 GMC Sierra 1500/2500/3500 (6.5L diesel)
1994 - 1999 GMC Yukon (6.5L diesel)
INSTALLATION NOTES
Filter screen MUST be installed with the detent tabs facing downwards into the bowl of the fuel filter housing (Fuel Filter Manager). A deep socket can be used to gently press the screen over the fuel supply tube. The screen should be removed and cleaned with every fuel filter change. Replace as necessary when the screen becomes brittle, cracks, frays, develops a hole, or otherwise appears compromised. Replace regardless every 2 to 3 filter changes. Do not clean with a solvent.
ADDITIONAL PRODUCT DETAILS
| | |
| --- | --- |
| Manufacturer: | Stanadyne/Clarcor/Parker |
| Part Number(s): | 29244 |
| Origin: | USA |
|  Warranty: | 30 day, manufacturer defects only |
| Shipping Weight: | 3 oz |